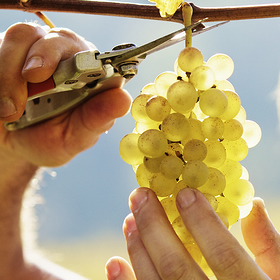 2012 crop forecasts for France:
The 2012 wine grapes harvest would amount to 46.7 million hl (Mhl) on July 1st, which is a smaller grape harvest than the one in 2011 (- 8%) according to the first estimates from the Ministry for Agriculture. The harvest would be within the five-year average. Winter frost or spring frost, flower abortion and mildew pressure have damaged the harvest potential as indicated by the forecasts published on Thursday.
All the wine categories would have a decline in their production in comparison with 2011: -6% for appellation wine and -4% for wines suitable for spirits production. The potential for wines with Protected Geographical Indications could have a decline of 12%. The level of other wines and juices would lose 15% in comparison with last year.
In Champagne, the spring frost hit 3,000 ha. "In Burgundy and in Beaujolais, the wine area has been under severe mildew attacks", indicates the Office of Statistics and Studies from the Ministry for Agriculture.
The flower abortion is a problem in Languedoc-Roussillon, Midi-Pyrénées and Gironde, "but to this day, there are still uncertainties regarding its impact on the yield".
Harvest estimates in the main wine areas on 1st July:
Champagne: 2.6 Mhl (-10% in comparison with 2011)
Burgundy-Beaujolais: 2.38 Mhl (-8%)
Alsace: 1.17 Mhl (-1%)
Val de Loire: 2.6 Mhl (-13%)
Charentes: 8.8 Mhl (-5%)
South-West: 3.6 Mhl (-9%)
Bordelais : 5,8 Mhl (-5 %)
Languedoc-Roussillon : 12,9 Mhl (-12 %)
South-East wine area (except Corsica): 5.39 Mhl (-4%)
Most of the vineyards are lagging behind in comparison with 2011, which had been an exceptionally early vintage. Thus, it is a return to a more normal phonologic calendar.