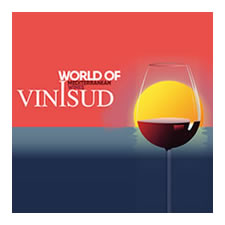 VINISUD at the Montpellier Showground from 18th to 20th February 2018
VINISUD IS THE INTERNATIONAL SHOWCASE FOR THE WORLD'S LEADING WINE REGION which alone accounts for 29% of global production and 28% of global exports with export shares up 6% by volume and 11% by value (2015 vs 2013).
Each event brings together most Mediterranean wine producers and trade buyers from across the continents, helping to open up the Mediterranean to new wine markets.
Vinisud ranks amongst the world's TOP 5 trade events for buyers. There will be 1,650 exhibitors from countries around the Mediterranean, 26,000 product lines and 30,000 trade visitors.
For more information, please visit: Vinisud.